Ryan Carniaux concert in Frankfurt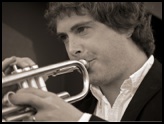 Reflections of the Persevering Spirit
Bloggerboy 29-1-2012
Every so often I stumble across a work of art or performance that leaves me in awe. We went to hear the Ryan Carniaux Quartet perform in the Café of the Jewish Museum in Frankfurt on Sunday morning. Carniaux is an American trumpet player who has been living in Europe since about 2003. Currently, he lives in Cologne. The quartet played their own compositions, mostly from their first album, Reflections of the Persevering Spirit. And what a spiritual performance it was.
I kept feeling better and better as the performance unfolded. The highlight for me was the final piece (before the encore), The Gandhi Response, written by Dutch pianist Mike Roelofs with brilliant soli perfectly in harmony with one another.

The song put me over the top, exemplifying the spiritual power of jazz, on par with the best of Miles Davis and John Coltrane. Completing the quartet from the original album was Samuel Dühlser on drums. I won't try to describe the music in detail. This was some of the best jazz I've heard in years, and I wish Ryan Carniaux and his group success going forward. They deserve it.